CHARGES
FROM
$40,000
Inclusive
---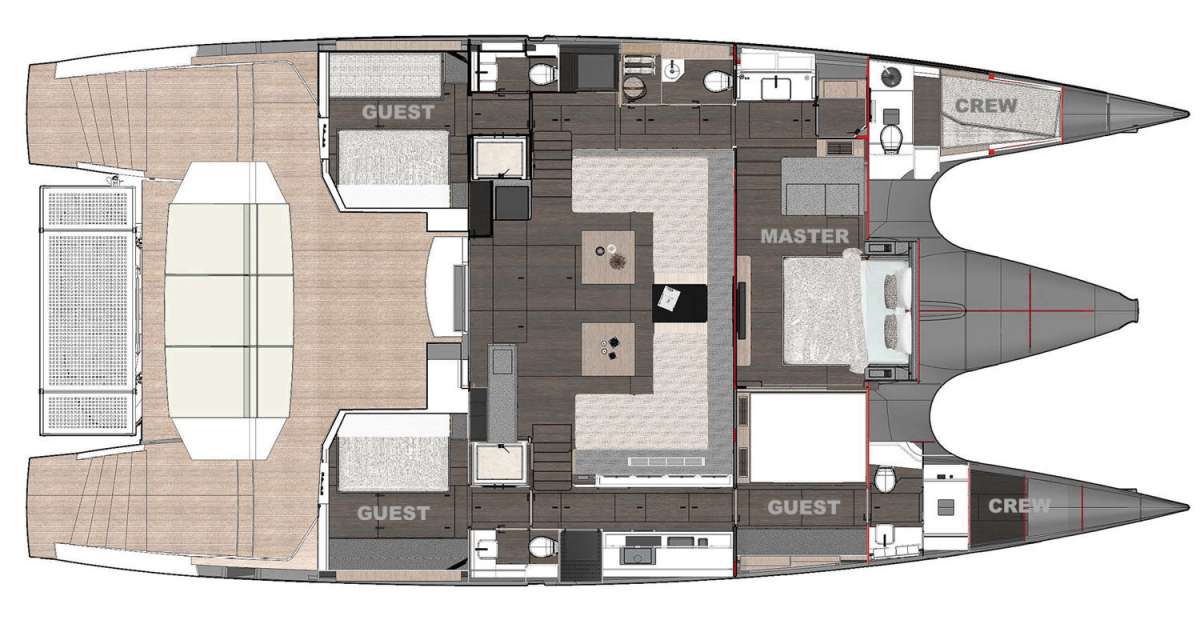 Boat Details
| | |
| --- | --- |
| Cabins: | 4 |
| King: | 1 |
| Queen: | 3 |
| Single Cabins: | - |
| Showers: | 4 |
| Wash Basins: | 4 |
| Heads: | 4 |
| Electric Heads: | 4 |
Sample Menu
CHEF TYLER DAWSON

(All items are subject to local availability and quality. Further options are available and modifications may be made according to allergies and guest preferences).

Breakfast

A selection of Cereal, Yogurts, Pastries, Bread, Preserves and Fruit served daily.

Daily Hot Breakfast

Scrambled eggs, Bacon, Mushroom, Roasted Tomatoes with Cassava & Potato Rosti
Caribbean Coconut French Toast with Fried Banana & Maple Syrup
Smoked Salmon Cream Cheese Bagel
NYC Bagel (Bacon, Cheddar & Fried Eggs)
Shakshuka (North African Style Poached Eggs in Spicy Tomato Relish)
Eggs Benedict/Royale/Florentine
Steak Fajita on Potato Hash Browns
Omelette Soufflé
Buttermilk Pancakes with Caramelised Plums
Sweetcorn Fritters
Pain Perdu
Croque Monsieur/Madame

Lunch

(Salads served with freshly baked bread)

California Salad (Quinoa, Edamame, Mango based)
Moroccan Roasted Butternut & Couscous Salad
English Beer Batter Fish on Zucchini Fries
USA Beef Burger/Lemon Herb Chicken Burger (Side Salad/Fries)
Dominican Burger (Side Salad/Fries)
Pizza (Side Salad/Fries)
Ribs (Side Salad/Fries)
Caesar Salad (Chicken/Shrimp)
Thai Mango Shrimp Salad
Thai Peanut & Mango Green Salad
Sicilian Pasta Salad
Nicoise Salad
Pulled Pork Burger (Side Salad/Fries)
Lobster Rolls/Steak Rolls (Side Salad/Fries)
Roasted Vegetable Tart (Side Salad/Fries)
Selection of Quiches (Side Salad/Fries)

Cocktail Snacks
Cheese Platter/Charcuterie Platter
Nachos
Thai Fish Cakes
Shrimp Skewers
Bruschetta (various toppings)
Choux Balls (various fillings)
Israeli Style Roasted Cauliflower
Sweet & Spicy Marinated Tofu Skewers
Spring Quinoa & Zucchini Fritters
Apple, Bacon & Cheddar Fritters
Scones with Cheese, Cream & Preserves
Stamp n Go (Saltfish Fritters)
Tandori Chicken Wings

Dinner

Served with freshly baked bread rolls

Appetisers

Moules Marinère
Spicy Broccoli Salad
Ricotta Gnocchi with Butter Sage Sauce
West Indian Red Papaya Salad
Chicken, Grapefruit & Pistachio Salad
Caprese Salad with Balsamic Vinegar Pearls
Vegetable Tian
Japanese Dashi Broth Soup
Ginger and Prawn Dumpling Soup
Moroccan Chicken and Chickpea Soup
White Bean Soup
Watercress Soup
Crab Stir Fried Noodles
Cantonese Pepper Squid
Ravioli (Various Fillings)
Risotto (Crab & Asparagus/ Mushroom/ Lobster)
Run Down (Mackerel in Coconut)

Mains
Flame Grilled Mahi Mahi on Asian Greens
Tamarind Glazed Grouper on Jasmine Rice
Grilled Rib-eye Steaks with Mixed Root Vegetable Wedges and Jerk Butter
Caribbean Jerk Chicken with Callaloo, Ackee, Rice and Peas and Johnny Cakes
Lemon and Parsley Crusted Fish on Garlic Mashed Potato
Pan-fried Red Snapper with Spicy Green Salad and a Sweet and Sour Dressing
Pasta (Thai Seafood / Mushroom Carbonara)
Pork Medallions with a Pineapple Salsa on Garlic Mash
Roast Rack of Lamb on a Herb Risotto
Duck Breast served with a Plum & Dark Chocolate Sauce
Slow Cooked Caribbean Oxtail on a Polenta Mash
Curried Goat on Polenta Mash
Honey Glazed Pork Belly with Roasted Vegetables

Deserts
Lemon and Mint Gratini on Shaved Melon
Apple and Mango Crumble
Chocolate Rum Pots
Rum Glazed Grilled Pineapple with Soursop Ice-cream and Key Lime Tarts
Tiramisu
Various Tarts (Chocolate/Apple/Key Lime)
St Clements Pudding
Posset (Citrus/ Hibiscus)
Soufflé (Chocolate/ Lemon)
Mousse (Chocolate/ Lemon)
Summer Berry Fruit Meringue
Summer Fruit Pudding
Malva Pudding
Sticky Toffee Date Pudding
Nougatina
Shortcake (Strawberry/ Blueberry / Apple)
Chocolate Guinness Cake
Foster (Banana/ Strawberry)
Various Ice-creams
Pick Up Locations
| | |
| --- | --- |
| Pref. Pick-up: | Village Cay Marina |
| Other Pick-up: | Nanny Cay, West End (No STT) |
---
Details
| | |
| --- | --- |
| Refit: | - |
| Helipad: | No |
| Jacuzzi: | No |
| A/C: | Full |
Engine Details
-
Fuel Consumption:
-
Cruising Speed:
-
Max Speed:
-
Locations
| | |
| --- | --- |
| Winter Area: | Caribbean Virgin Islands (BVI) |
| Summer Area: | Caribbean Windwards, Caribbean Virgin Islands (BVI) |
---
Amenities
| | |
| --- | --- |
| Salon Tv/VCR: | Yes |
| Salon Stereo: | Yes |
| Sat TV: | - |
| # of Videos: | - |
| # DVDs/Movies: | Digital |
| # CD's: | Digital |
| Camcorder: | Yes |
| Books: | - |
| Board Games: | - |
| Sun Awning: | Yes |
| Deck Shower: | Yes |
| Bimini: | Yes |
| Water Maker: | 2 |
| | |
| --- | --- |
| Special Diets: | Inq |
| Kosher: | Inq |
| BBQ: | Yes |
| # Dine In: | 6 |
| Minimum Age: | 6 months |
| Generator: | 13.5 Kw |
| Inverter: | 8Kw |
| Voltages: | 110 & 220 |
| Water Maker: | 2 |
| Water Cap: | 1300 ptrs |
| Ice Maker: | Yes |
| Sailing Instructions: | No |
| Internet Access: | Onboard WIFI |
| | |
| --- | --- |
| Gay Charters: | Yes |
| Nude: | No |
| Hairdryers: | Yes |
| # Port Hatches: | - |
| Guests Smokes: | Transoms |
| Crew Smokes: | No |
| Pets Aboard: | No |
| Pet Type: | - |
| Guest Pets: | No |
| Children Ok: | Yes |
| Hammock: | - |
| Windscoops: | No |
---
Water Sports
| | |
| --- | --- |
| Dinghy size: | 14.5 ft |
| Dinghy hp: | 195 |
| Dinghy # pax: | 8 |
| Water Skis Adult: | Yes |
| Water Skis Kids: | Yes |
| Jet Skis: | No |
| Wave Runners: | No |
| Kneeboard: | Yes |
| Windsurfer: | No |
| Snorkel Gear: | 12 |
| Tube: | Yes |
| | |
| --- | --- |
| Scurfer: | - |
| Wake Board: | Yes |
| Kayaks 1 Pax: | 2 |
| Kayaks (2 Pax): | - |
| Floating Mats: | Yes |
| Swim Platform: | Yes |
| Boarding Ladder (Loc/Type): | Stern |
| Sailing Dinghy: | No |
| Beach Games: | - |
| Fishing Gear: | Yes |
| Gear Type: | - |
| Rods: | - |
LEE ADAMS
Lee grew up on the peninsula of Cape Town, South Africa. As a youngster and under the guidance of his Grandfather, Admiral Tom Hardiman SA Navy, he was introduced to sailing and racing in the Bay. His maiden voyage and ocean crossing from Cape Town to Antigua was aboard a racing sloop back in 1999. After several local regattas in the Carib, he was invited aboard the classic Schooner, The Tree of Life (with 8 manual sails). After an initial circumnavigation aboard, he took over as Captain.
Lee has explored and lived in the Caribbean for more than 10 years and is a long time resident in the Lesser Antilles. His local knowledge is a key component for any successful holiday where the Captain must find the best hidden locations, crystal clear dive sites and dodge any weather.
Lee's qualities as a person are special. Meet him and you will know instantly why he Captain's the very first Privilege 640, Segundo Viento. The atmosphere onboard is perfectly balanced and maintained, and with his unique skillset, adventure is always on hand.
is an active and enthusiastic person, he enjoys all water sports. The experiences he has gained through his travels along with a jovial personality creates a pleasant atmosphere which is enough to make any guest aboard feel right at home, ready to relax and enjoy themselves.

TYLER DAWSON
West Indian born with a South African upbringing; loved cooking so much he grew a beard as a teenager and slipped into the fine-dining kitchen of Eton House. Award-Winning culinary adventures and dynamic influences have punctuated his journey ever since.
Presently in the UK on a working sabbatical with Dine- Indulge and highly commended as a Premium Tier Private Chef in a short space of time. However, Tyler shall be returning shortly to his home base of Tortola to take up his position on Segundo Viento and, of course, keep an eye on operations of his own Family Food and Bakery business located on the island.
Tyler is an avid spearfisherman and having being born in the Carib loves nothing more than catching fresh lionfish and lobsters to prepare for your pleasure. Expect his knowledge of local ingredients and preparation methods to provide a certain authentic quality you won't experience elsewhere.
A list of his accomplishments and experiences are too many to mention here but he's extremely outgoing and easily approachable if you wish to hear of his adventures.
(15 December -30 April)
Caribbean Virgin Islands (BVI)
(1 May - 14 December)
Caribbean Windwards, Caribbean Virgin Islands (BVI)
| | | | | | | | | | | | | | | | | | | | | | | | | | | | | | | | |
| --- | --- | --- | --- | --- | --- | --- | --- | --- | --- | --- | --- | --- | --- | --- | --- | --- | --- | --- | --- | --- | --- | --- | --- | --- | --- | --- | --- | --- | --- | --- | --- |
| Aug 2022 | 1 | 2 | 3 | 4 | 5 | 6 | 7 | 8 | 9 | 10 | 11 | 12 | 13 | 14 | 15 | 16 | 17 | 18 | 19 | 20 | 21 | 22 | 23 | 24 | 25 | 26 | 27 | 28 | 29 | 30 | 31 |
| Sep 2022 | 1 | 2 | 3 | 4 | 5 | 6 | 7 | 8 | 9 | 10 | 11 | 12 | 13 | 14 | 15 | 16 | 17 | 18 | 19 | 20 | 21 | 22 | 23 | 24 | 25 | 26 | 27 | 28 | 29 | 30 | |
| Oct 2022 | 1 | 2 | 3 | 4 | 5 | 6 | 7 | 8 | 9 | 10 | 11 | 12 | 13 | 14 | 15 | 16 | 17 | 18 | 19 | 20 | 21 | 22 | 23 | 24 | 25 | 26 | 27 | 28 | 29 | 30 | 31 |
| Nov 2022 | 1 | 2 | 3 | 4 | 5 | 6 | 7 | 8 | 9 | 10 | 11 | 12 | 13 | 14 | 15 | 16 | 17 | 18 | 19 | 20 | 21 | 22 | 23 | 24 | 25 | 26 | 27 | 28 | 29 | 30 | |
| Dec 2022 | 1 | 2 | 3 | 4 | 5 | 6 | 7 | 8 | 9 | 10 | 11 | 12 | 13 | 14 | 15 | 16 | 17 | 18 | 19 | 20 | 21 | 22 | 23 | 24 | 25 | 26 | 27 | 28 | 29 | 30 | 31 |
| Jan 2023 | 1 | 2 | 3 | 4 | 5 | 6 | 7 | 8 | 9 | 10 | 11 | 12 | 13 | 14 | 15 | 16 | 17 | 18 | 19 | 20 | 21 | 22 | 23 | 24 | 25 | 26 | 27 | 28 | 29 | 30 | 31 |
| Feb 2023 | 1 | 2 | 3 | 4 | 5 | 6 | 7 | 8 | 9 | 10 | 11 | 12 | 13 | 14 | 15 | 16 | 17 | 18 | 19 | 20 | 21 | 22 | 23 | 24 | 25 | 26 | 27 | 28 | | | |
| Mar 2023 | 1 | 2 | 3 | 4 | 5 | 6 | 7 | 8 | 9 | 10 | 11 | 12 | 13 | 14 | 15 | 16 | 17 | 18 | 19 | 20 | 21 | 22 | 23 | 24 | 25 | 26 | 27 | 28 | 29 | 30 | 31 |
| Apr 2023 | 1 | 2 | 3 | 4 | 5 | 6 | 7 | 8 | 9 | 10 | 11 | 12 | 13 | 14 | 15 | 16 | 17 | 18 | 19 | 20 | 21 | 22 | 23 | 24 | 25 | 26 | 27 | 28 | 29 | 30 | |
| May 2023 | 1 | 2 | 3 | 4 | 5 | 6 | 7 | 8 | 9 | 10 | 11 | 12 | 13 | 14 | 15 | 16 | 17 | 18 | 19 | 20 | 21 | 22 | 23 | 24 | 25 | 26 | 27 | 28 | 29 | 30 | 31 |
| Jun 2023 | 1 | 2 | 3 | 4 | 5 | 6 | 7 | 8 | 9 | 10 | 11 | 12 | 13 | 14 | 15 | 16 | 17 | 18 | 19 | 20 | 21 | 22 | 23 | 24 | 25 | 26 | 27 | 28 | 29 | 30 | |
| Jul 2023 | 1 | 2 | 3 | 4 | 5 | 6 | 7 | 8 | 9 | 10 | 11 | 12 | 13 | 14 | 15 | 16 | 17 | 18 | 19 | 20 | 21 | 22 | 23 | 24 | 25 | 26 | 27 | 28 | 29 | 30 | 31 |
---