CHARGES
FROM
$19,000
Inclusive
---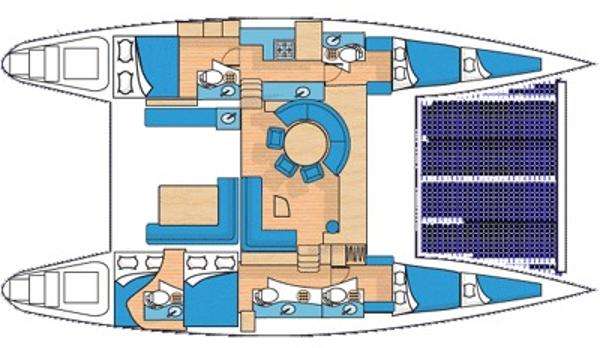 Boat Details
| | |
| --- | --- |
| Cabins: | 4 |
| King: | - |
| Queen: | 4 |
| Single Cabins: | - |
| Showers: | 5 |
| Wash Basins: | 5 |
| Heads: | 5 |
| Electric Heads: | 5 |
Sample Menu
Tabula Rasa's Sample Menu Designed By Chef Daisy Brooks

Breakfast

Bacon Rose Wrapped Fried Eggs with Toasted Sourdough Bread and Ghee

Cantaloupe Boats with Honey Yogurt, and Assorted Fruits

Avocado Smashed Toast with a Fried Egg, Heirloom Tomatoes, and Sprouts

Breakfast Tacos with Soft Scrambled Eggs, Maple bacon, Local Goat Cheese, and Oregano

Smashed banana walnut pancakes topped with blueberry compote and maple sausage

Baked Frittata with Caramelized Pear, Prosciutto, and Creamed Cheese

Overnight Oats with Chia, Hemp Hearts and Fresh Berries

Lunch

Grilled Turkey, Brie, and Raspberry Chipotle Jam Panini

Smoked Salmon, Dill, and Pickled Cucumber Lettuce Wraps

Arepa's with Chipotle Beans, Fried Plantains and Chicken Mole

Korean Spiced Steak, and Chicken Skewers with Assorted Vegetables

Pesto Spinach Salad with Citrus Chicken and Pomegranate Seeds

Brioche Buns filled with Caramelized Onions, Pulled Pork, and Grilled Pineapple

Savory Crepes Filled with Creamy Spinach and Roasted Tomatoes

Hors D'oeuvres

Crispy Prosciutto and Brie Pastry Twists with Fried Brussels

Tuna Ceviche Tostadas with Pineapple Mango Salsa

Watermelon Arugula Mint Feta Salad with Pickled Onions

White Wine and Garlic Steamed Mussels with Fresh Baked Bread

Charcuterie Board with assorted cheeses, meats and fruit

Fried Coconut Shrimp with Cilantro Lime Sauce

Streamed Momo's with Mango Chutney

Dinner

Steamed Spaghetti Squash with Rosemary Lemon Chicken and Charred Broccoli

Spinach and Feta Stuffed Salmon with Jasmine Rice

Creamy Chicken Marsala with Mushroom Risotto

Chipotle Cauliflower Tacos with Jalapeño Verde sauce, Wild Rice and Grilled Corn

Caramelized Lime Wahoo with Asian Vegetables and Jasmine Rice

Locally Caught Lobster Bisque Soup with Fresh Warm bread, and Lemon Parmesan Salad

Tuscan Creamed Chicken with Wilted Spinach and Feta

Dessert

Swirled Blackberry Lavender Sheet Cake

Chocolate Covered Bananas and Strawberries with Fresh Whipped Cream

Frozen Peach Rosé Sorbet

Lemon Meringue Cupcakes

Cinnamon Apple Crisp with Fried Vanilla Bean Ice Cream

Chantilly Cake with Buttercream Frosting and Fresh Berries

Banana Tarte Tatin with Pistachio Ice Cream
Pick Up Locations
| | |
| --- | --- |
| Pref. Pick-up: | American Yacht Harbour, St. Th |
| Other Pick-up: | Yacht Haven Grande, St. Thomas |
---
Details
| | |
| --- | --- |
| Refit: | 2019 |
| Helipad: | No |
| Jacuzzi: | No |
| A/C: | Full |
Engine Details
Twin Yanmar 75HP diesel in-board engines, 11.5kW Onan Generator
Fuel Consumption:
-
Cruising Speed:
7 knots
Max Speed:
10 knotsUS Gall/Hr
Locations
| | |
| --- | --- |
| Winter Area: | Caribbean Virgin Islands (US/BVI), Caribbean Leewards, Caribbean Windwards |
| Summer Area: | Caribbean Virgin Islands (US/BVI), Caribbean Leewards, Caribbean Windwards |
---
Amenities
| | |
| --- | --- |
| Salon Tv/VCR: | Yes |
| Salon Stereo: | Yes |
| Sat TV: | WIFI is available in both US and International waters. Download speeds in foreign countries are not equal to the speeds of the US. |
| # of Videos: | - |
| # DVDs/Movies: | Yes |
| # CD's: | Streaming |
| Camcorder: | - |
| Books: | Yes |
| Board Games: | Yes |
| Sun Awning: | Yes |
| Deck Shower: | Yes |
| Bimini: | Yes |
| Water Maker: | Yes |
| | |
| --- | --- |
| Special Diets: | Yes |
| Kosher: | Yes |
| BBQ: | Yes |
| # Dine In: | - |
| Minimum Age: | - |
| Generator: | 11.5 kW Onan Generator |
| Inverter: | Yes |
| Voltages: | 110/220v |
| Water Maker: | Yes |
| Water Cap: | 264 gal |
| Ice Maker: | - |
| Sailing Instructions: | - |
| Internet Access: | Onboard WIFI |
| | |
| --- | --- |
| Gay Charters: | Yes |
| Nude: | Yes |
| Hairdryers: | No |
| # Port Hatches: | Yes |
| Guests Smokes: | Yes, crew requests that guests |
| Crew Smokes: | No |
| Pets Aboard: | No |
| Pet Type: | - |
| Guest Pets: | No |
| Children Ok: | Yes |
| Hammock: | - |
| Windscoops: | - |
---
Water Sports
| | |
| --- | --- |
| Dinghy size: | 13' Nautica |
| Dinghy hp: | 40HP |
| Dinghy # pax: | 9 |
| Water Skis Adult: | Yes |
| Water Skis Kids: | Yes |
| Jet Skis: | - |
| Wave Runners: | - |
| Kneeboard: | - |
| Windsurfer: | - |
| Snorkel Gear: | Yes |
| Tube: | Yes |
| | |
| --- | --- |
| Scurfer: | - |
| Wake Board: | Yes |
| Kayaks 1 Pax: | - |
| Kayaks (2 Pax): | No |
| Floating Mats: | Yes |
| Swim Platform: | Sugar Scoops |
| Boarding Ladder (Loc/Type): | Yes |
| Sailing Dinghy: | - |
| Beach Games: | Yes |
| Fishing Gear: | Yes |
| Gear Type: | - |
| Rods: | - |
Captain Zack Gustat

CERTIFICATIONS

CPR Certified
TWIC
STCW Basic Training
USCG 100 Ton Near Coastal Master
PADI Divemaster
Certified Snowmobile Operator (Colorado)


"I first began sailing in St Augustine, Florida 5 years ago on the Schooner Freedom. Coming from a service industry background, the transition to charter sailing was quite suitable. Learning to sail on a traditionally rigged vessel gave me a great appreciation for the art of sailing and instilled a love for it that I apply to anything I do in or on the ocean. I also took my first dives during that time and became Open Water certified.

After a couple years, I moved on to work with Lindblad Expeditions/National Geographic. As an immersive, high-end cruising operation, this world taught me the ins and outs of liveaboard work and cruising to exceed the expectations of high end clientele. As a licensed deckhand I ran onshore and offshore expeditions in remote and wild areas, which gives me a sense and awareness in exploring unique locales in a safe and enjoyable manner. It also brought me close to some amazing wildlife, geology, and oceanography, which has enhanced my knowledge base and ability to engage and educate clientele. This also allowed me to save up to complete my Divemaster course with PADI, which I did in Roatan, Honduras. I believe my knowledge of Mesoamerican reef life will translate well across the rest of the Caribbean reef system.

Following this I went on to run private charter sails in Bar Harbor, Maine, which gave me the experience of managing my own vessel and guest experiences. This position dialed in my abilities as a captain, and while I understand there is always something to learn from the ocean and the vessels we go upon her with, my confidence and resolve is well equipped for week long charters as a captain.

All around my intent is to provide an unforgettable experience to everyone who steps foot on our boat. Safety is a top priority and will always be kept in mind when making decisions. All activities will aim to please all those involved and immerse our clientele in the parts of the world we explore that no one should miss."


Chef Daisy Brooks

STCW Basic Training

Hi my name is Daisy, I'm 31 years old, born and raised in colorful Colorado. I started getting into culinary cuisine from a young age, traveling around Europe, Canada, and South America with my family, learning about all the different cultures and their cuisines.
Since then I've worked for catering companies, traveling food trucks at music festivals, farm to table restaurants, and was a consultant for Whole Foods. During my time there I got to travel around, open new stores and train people in the kitchen. I also won a pizza competition that's now used as a recipe in all the stores.
My palate for food leans on the healthier side, but I also like to indulge in many different foods this beautiful world has to offer. When I'm not finding new culinary creations or ways to spin things, my hands are getting dirty in the soil, foraging medicinal plants, and researching flowers. I have a small farm where I grow almost all of my fruits and vegetables. I have a pup as well, we spend a lot of our time exploring the woods, and howling at the moon. You'll also find us snowmobiling the Grand Mesa, back country skiing, fishing and rafting. I've done most of the Colorado river, the Snake River, Yampa River, Green River, Gates of Ladore, and the Grand Canyon. I'm so excited to take what I've learned from the river and apply it to sailing the seas. Trade snow for sunshine, explore new waters here in the Caribbean, and catch all the fish for our delectable dinners.
(15 December -30 April)
Caribbean Virgin Islands (US/BVI), Caribbean Leewards, Caribbean Windwards
(1 May - 14 December)
Caribbean Virgin Islands (US/BVI), Caribbean Leewards, Caribbean Windwards
| | | | | | | | | | | | | | | | | | | | | | | | | | | | | | | | |
| --- | --- | --- | --- | --- | --- | --- | --- | --- | --- | --- | --- | --- | --- | --- | --- | --- | --- | --- | --- | --- | --- | --- | --- | --- | --- | --- | --- | --- | --- | --- | --- |
| Aug 2022 | 1 | 2 | 3 | 4 | 5 | 6 | 7 | 8 | 9 | 10 | 11 | 12 | 13 | 14 | 15 | 16 | 17 | 18 | 19 | 20 | 21 | 22 | 23 | 24 | 25 | 26 | 27 | 28 | 29 | 30 | 31 |
| Sep 2022 | 1 | 2 | 3 | 4 | 5 | 6 | 7 | 8 | 9 | 10 | 11 | 12 | 13 | 14 | 15 | 16 | 17 | 18 | 19 | 20 | 21 | 22 | 23 | 24 | 25 | 26 | 27 | 28 | 29 | 30 | |
| Oct 2022 | 1 | 2 | 3 | 4 | 5 | 6 | 7 | 8 | 9 | 10 | 11 | 12 | 13 | 14 | 15 | 16 | 17 | 18 | 19 | 20 | 21 | 22 | 23 | 24 | 25 | 26 | 27 | 28 | 29 | 30 | 31 |
| Nov 2022 | 1 | 2 | 3 | 4 | 5 | 6 | 7 | 8 | 9 | 10 | 11 | 12 | 13 | 14 | 15 | 16 | 17 | 18 | 19 | 20 | 21 | 22 | 23 | 24 | 25 | 26 | 27 | 28 | 29 | 30 | |
| Dec 2022 | 1 | 2 | 3 | 4 | 5 | 6 | 7 | 8 | 9 | 10 | 11 | 12 | 13 | 14 | 15 | 16 | 17 | 18 | 19 | 20 | 21 | 22 | 23 | 24 | 25 | 26 | 27 | 28 | 29 | 30 | 31 |
| Jan 2023 | 1 | 2 | 3 | 4 | 5 | 6 | 7 | 8 | 9 | 10 | 11 | 12 | 13 | 14 | 15 | 16 | 17 | 18 | 19 | 20 | 21 | 22 | 23 | 24 | 25 | 26 | 27 | 28 | 29 | 30 | 31 |
| Feb 2023 | 1 | 2 | 3 | 4 | 5 | 6 | 7 | 8 | 9 | 10 | 11 | 12 | 13 | 14 | 15 | 16 | 17 | 18 | 19 | 20 | 21 | 22 | 23 | 24 | 25 | 26 | 27 | 28 | | | |
| Mar 2023 | 1 | 2 | 3 | 4 | 5 | 6 | 7 | 8 | 9 | 10 | 11 | 12 | 13 | 14 | 15 | 16 | 17 | 18 | 19 | 20 | 21 | 22 | 23 | 24 | 25 | 26 | 27 | 28 | 29 | 30 | 31 |
| Apr 2023 | 1 | 2 | 3 | 4 | 5 | 6 | 7 | 8 | 9 | 10 | 11 | 12 | 13 | 14 | 15 | 16 | 17 | 18 | 19 | 20 | 21 | 22 | 23 | 24 | 25 | 26 | 27 | 28 | 29 | 30 | |
| May 2023 | 1 | 2 | 3 | 4 | 5 | 6 | 7 | 8 | 9 | 10 | 11 | 12 | 13 | 14 | 15 | 16 | 17 | 18 | 19 | 20 | 21 | 22 | 23 | 24 | 25 | 26 | 27 | 28 | 29 | 30 | 31 |
| Jun 2023 | 1 | 2 | 3 | 4 | 5 | 6 | 7 | 8 | 9 | 10 | 11 | 12 | 13 | 14 | 15 | 16 | 17 | 18 | 19 | 20 | 21 | 22 | 23 | 24 | 25 | 26 | 27 | 28 | 29 | 30 | |
| Jul 2023 | 1 | 2 | 3 | 4 | 5 | 6 | 7 | 8 | 9 | 10 | 11 | 12 | 13 | 14 | 15 | 16 | 17 | 18 | 19 | 20 | 21 | 22 | 23 | 24 | 25 | 26 | 27 | 28 | 29 | 30 | 31 |
---