CHARGES
FROM
€23,000
Inclusive
---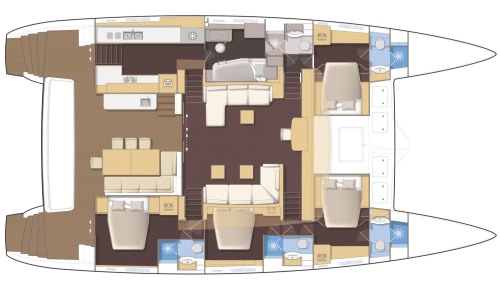 Boat Details
| | |
| --- | --- |
| Cabins: | 4 |
| King: | - |
| Queen: | 4 |
| Single Cabins: | - |
| Showers: | 4 |
| Wash Basins: | - |
| Heads: | 4 |
| Electric Heads: | 4 |
Sample Menu
Menu Crocodile pour une semaine

Lunch

Tartare de saumon et sa salade verte
Burrata et son coulis de tomate givré
Carpaccio de bœuf et sa salade
Salade avocat crevettes
Gambas flambé et salade Grecque
Saumon fumé et sa sauce blanche
Salade Niçoise
Jambon de Parme et Melon accompagné de sa salade de tomates

Les entrée

Roquette parmesan
Asperges et son œuf mollet
Foie gras et sa confiture de figues
Carpaccio de thon
Salade de la mer
Vongole
Gazpacho

Les diner

Filet de daurade et sa purée
Pates a la vongolé ou a la provençale
Cabillaud accompagné de ses légumes
Coquilles Saint Jacques accompagné de son écraser et de pommes de terre a la truffe
Soupe de Poisson
Tournedos de veau accompagné de sa sauce, salade verte et pomme de terre au four
Diner préférence guest

Dessert

Sorbet framboise accompagné de son coulis de fruit rouge
Banane flambé
Profiteroles
Fondant au chocolat
Salade de fraise et sa chantilly
Mousse au chocolat
Crème Brulée
Pâtisserie du jour choisi par le chef
Pick Up Locations
| | |
| --- | --- |
| Pref. Pick-up: | - |
| Other Pick-up: | - |
---
Details
| | |
| --- | --- |
| Refit: | 2017 |
| Helipad: | No |
| Jacuzzi: | No |
| A/C: | Full |
Engine Details
2 Volvo 110 HP GE : Onan 16 kwa
Fuel Consumption:
10
Cruising Speed:
8
Max Speed:
17US Gall/Hr
Locations
| | |
| --- | --- |
| Winter Area: | Caribbean Virgin Islands (US/BVI), Bahamas, Caribbean Leewards, Caribbean Windwards |
| Summer Area: | Caribbean Virgin Islands (US/BVI), Bahamas, Caribbean Leewards, Caribbean Windwards |
---
Amenities
| | |
| --- | --- |
| Salon Tv/VCR: | Yes |
| Salon Stereo: | Yes |
| Sat TV: | Sat com, cellular phone and internet |
| # of Videos: | - |
| # DVDs/Movies: | - |
| # CD's: | - |
| Camcorder: | - |
| Books: | - |
| Board Games: | Yes |
| Sun Awning: | Yes |
| Deck Shower: | Yes |
| Bimini: | Yes |
| Water Maker: | Yes |
| | |
| --- | --- |
| Special Diets: | Yes |
| Kosher: | Inq |
| BBQ: | Yes |
| # Dine In: | - |
| Minimum Age: | - |
| Generator: | Onan 17 KWA |
| Inverter: | - |
| Voltages: | 220 -24 |
| Water Maker: | Yes |
| Water Cap: | - |
| Ice Maker: | Yes |
| Sailing Instructions: | - |
| Internet Access: | - |
| | |
| --- | --- |
| Gay Charters: | Yes |
| Nude: | No |
| Hairdryers: | Yes |
| # Port Hatches: | - |
| Guests Smokes: | on the deck only |
| Crew Smokes: | No |
| Pets Aboard: | No |
| Pet Type: | - |
| Guest Pets: | No |
| Children Ok: | Yes |
| Hammock: | No |
| Windscoops: | - |
---
Water Sports
| | |
| --- | --- |
| Dinghy size: | Hardbottom |
| Dinghy hp: | 50 |
| Dinghy # pax: | 6 |
| Water Skis Adult: | Yes |
| Water Skis Kids: | Yes |
| Jet Skis: | No |
| Wave Runners: | - |
| Kneeboard: | Yes |
| Windsurfer: | - |
| Snorkel Gear: | Yes |
| Tube: | Yes |
| | |
| --- | --- |
| Scurfer: | - |
| Wake Board: | Yes |
| Kayaks 1 Pax: | Yes |
| Kayaks (2 Pax): | Yes |
| Floating Mats: | 2 |
| Swim Platform: | yes |
| Boarding Ladder (Loc/Type): | - |
| Sailing Dinghy: | - |
| Beach Games: | Yes |
| Fishing Gear: | Yes |
| Gear Type: | - |
| Rods: | - |
Captain Pietro
Nationality: Italian

Captain Pietro Vitali has been a professional yachtsman for nearly 15 years. He started sailing as a kid and loves to share his passion for sailing and the sea with his guests. As a captain he takes pride in making sure his guests feel safe and fully relaxed. He is an excellent organiser and, with his charming Italian accent, he steers his crew of 3 to the common goal: providing a wonderful hospitality experience on board Crocodile Daddy.

Chef Sam
Nationality: Belgian

Chef Sam has always been a travelling chef who loves to learn about local recipes wherever he lands. Sailing is another passion of his and so it was only natural that he would end up in yachting. Some days playfully, others uber stylishly, presenting his wide variety of dishes, Sam is not just looking to feed his guest but to provide an experience!

Chef Eva
Nationality: Belgian

Stewardess Eva grew up near the Belgian coast. After starting her career in hospitality, she volunteered with Sea Shepherd before discovering yachting.
On board a luxury yacht she felt all her abilities were coming into play for the benefit of owners and guests. Together with Pietro she has run a successful charter program on a sistership of Crocodile Daddy. She is now excited to welcome guests as their Stewardess looking after their comfort on board.
(15 December -30 April)
Caribbean Virgin Islands (US/BVI), Bahamas, Caribbean Leewards, Caribbean Windwards
(1 May - 14 December)
Caribbean Virgin Islands (US/BVI), Bahamas, Caribbean Leewards, Caribbean Windwards
| | | | | | | | | | | | | | | | | | | | | | | | | | | | | | | | |
| --- | --- | --- | --- | --- | --- | --- | --- | --- | --- | --- | --- | --- | --- | --- | --- | --- | --- | --- | --- | --- | --- | --- | --- | --- | --- | --- | --- | --- | --- | --- | --- |
| Apr 2022 | 1 | 2 | 3 | 4 | 5 | 6 | 7 | 8 | 9 | 10 | 11 | 12 | 13 | 14 | 15 | 16 | 17 | 18 | 19 | 20 | 21 | 22 | 23 | 24 | 25 | 26 | 27 | 28 | 29 | 30 | |
| May 2022 | 1 | 2 | 3 | 4 | 5 | 6 | 7 | 8 | 9 | 10 | 11 | 12 | 13 | 14 | 15 | 16 | 17 | 18 | 19 | 20 | 21 | 22 | 23 | 24 | 25 | 26 | 27 | 28 | 29 | 30 | 31 |
| Jun 2022 | 1 | 2 | 3 | 4 | 5 | 6 | 7 | 8 | 9 | 10 | 11 | 12 | 13 | 14 | 15 | 16 | 17 | 18 | 19 | 20 | 21 | 22 | 23 | 24 | 25 | 26 | 27 | 28 | 29 | 30 | |
| Jul 2022 | 1 | 2 | 3 | 4 | 5 | 6 | 7 | 8 | 9 | 10 | 11 | 12 | 13 | 14 | 15 | 16 | 17 | 18 | 19 | 20 | 21 | 22 | 23 | 24 | 25 | 26 | 27 | 28 | 29 | 30 | 31 |
| Aug 2022 | 1 | 2 | 3 | 4 | 5 | 6 | 7 | 8 | 9 | 10 | 11 | 12 | 13 | 14 | 15 | 16 | 17 | 18 | 19 | 20 | 21 | 22 | 23 | 24 | 25 | 26 | 27 | 28 | 29 | 30 | 31 |
| Sep 2022 | 1 | 2 | 3 | 4 | 5 | 6 | 7 | 8 | 9 | 10 | 11 | 12 | 13 | 14 | 15 | 16 | 17 | 18 | 19 | 20 | 21 | 22 | 23 | 24 | 25 | 26 | 27 | 28 | 29 | 30 | |
| Oct 2022 | 1 | 2 | 3 | 4 | 5 | 6 | 7 | 8 | 9 | 10 | 11 | 12 | 13 | 14 | 15 | 16 | 17 | 18 | 19 | 20 | 21 | 22 | 23 | 24 | 25 | 26 | 27 | 28 | 29 | 30 | 31 |
| Nov 2022 | 1 | 2 | 3 | 4 | 5 | 6 | 7 | 8 | 9 | 10 | 11 | 12 | 13 | 14 | 15 | 16 | 17 | 18 | 19 | 20 | 21 | 22 | 23 | 24 | 25 | 26 | 27 | 28 | 29 | 30 | |
| Dec 2022 | 1 | 2 | 3 | 4 | 5 | 6 | 7 | 8 | 9 | 10 | 11 | 12 | 13 | 14 | 15 | 16 | 17 | 18 | 19 | 20 | 21 | 22 | 23 | 24 | 25 | 26 | 27 | 28 | 29 | 30 | 31 |
| Jan 2023 | 1 | 2 | 3 | 4 | 5 | 6 | 7 | 8 | 9 | 10 | 11 | 12 | 13 | 14 | 15 | 16 | 17 | 18 | 19 | 20 | 21 | 22 | 23 | 24 | 25 | 26 | 27 | 28 | 29 | 30 | 31 |
| Feb 2023 | 1 | 2 | 3 | 4 | 5 | 6 | 7 | 8 | 9 | 10 | 11 | 12 | 13 | 14 | 15 | 16 | 17 | 18 | 19 | 20 | 21 | 22 | 23 | 24 | 25 | 26 | 27 | 28 | | | |
| Mar 2023 | 1 | 2 | 3 | 4 | 5 | 6 | 7 | 8 | 9 | 10 | 11 | 12 | 13 | 14 | 15 | 16 | 17 | 18 | 19 | 20 | 21 | 22 | 23 | 24 | 25 | 26 | 27 | 28 | 29 | 30 | 31 |
---