CHARGES
FROM
$28,000
Inclusive
---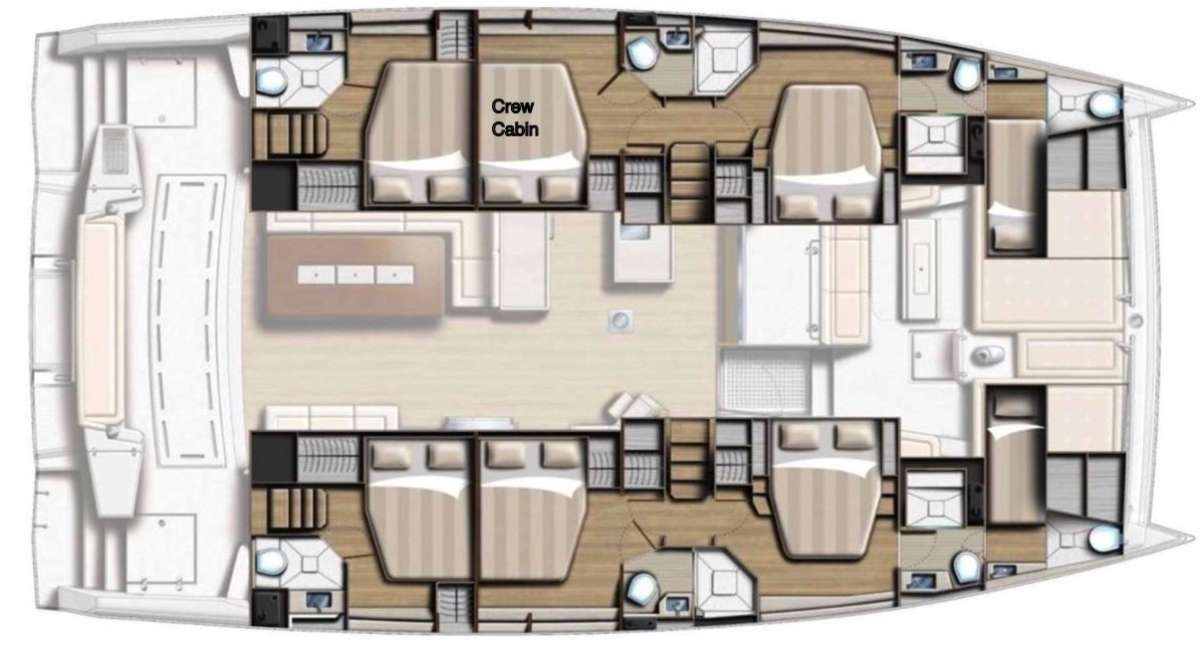 Boat Details
| | |
| --- | --- |
| Cabins: | 5 |
| King: | - |
| Queen: | 5 |
| Single Cabins: | 2 |
| Showers: | 6 |
| Wash Basins: | 6 |
| Heads: | 6 |
| Electric Heads: | 6 |
Sample Menu
| Breakfast |

Served with Tea, coffee, fresh juice and a fruit platter

Homemade bagel buffet with pickled red onions, smoked salmon, cream cheese, sliced tomato & scrambled eggs

Swedish pancakes with strawberry jam, whipped cream, Nutella and peanut butter

Shashuka with feta cheese and fresh parsley & fresh toasted bread

Avocado toast with poached eggs on a toasted bun

American breakfast spread Pancakes, Scrambled eggs, bacon, hash browns

Eggs Benedict with crispy bacon

| Lunch |

Chicken Caesar salad with garlic croutons

Poke bowl with teriyaki marinated tuna, rice, avocado, edamame beans, pickled red onion, chopped peanuts, cucumber.

Vodka penne pasta with caprese salad and garlic bread

Ginger and lime couscous /w sesame crusted salmon and lime/garlic yoghurt dressing

Vegetarian red curry /w rice

Goat's cheese salad

| Snacks/Appetizers |

Charcuterie board

Bruschetta 3 different ways (tomato, pesto & fig/nuts)

Italian skewers with tomato, mozzarella, basil, tortellini with breadsticks and dip on the side

Homemade banana bread

Snack board with Olives, Tapenad, Crostinis, Hummus, Cucumber, Carrots,fresh bread, olive oil plus more!

Quesadillas spread with home made dipping sauces

| Dinner |

Lobster rolls in a brioche bun with blackened garlic aioli with oven roasted potatoes and sour cream

Lamb rack with truffle/garlic mashed potatoes and a red wine reduction

Chili marinated shrimps with cauliflower purée

Chicken & mushroom risotto topped with parmesan

Pulled chicken tacos served with pickled red onion, guacamole, shredded cheese, sour cream, chili mayo, cilantro, tomato salsa & mango salsa

Lasagna /w green salad

| Desert |

Swedish mud cake with vanilla whipped cream

Lemon cheesecake /w raspberry & mint reduction

Carrot cake with lime frosting

Peach pannacotta /w dark chocolate crisp

Amaretto mousse with roasted white chocolate

Homemade Snickers with ice cream and caramelized banana

Standard Ships Bar:

Soft drinks, sodas, water, beers, cocktails and wine are available for your enjoyment throughout the day.

Spirits

Vodka brands: Tito's, Stoli, Smirnoff

Whiskey brands: Johnny Walker, Dewars, Jack Daniels

Tequila brands: Souza, Milagro

Rum brand: Cruzan

Gin brands: Gordans, Tanqueray

An assortment of liqueurs.

Red and White Wines

Pinot Grigio, Sauvignon Blanc, Chardonnay, Cabernet Sauvignon, Red Blend, Pinot Noir, Prosecco

Beer

Bud, Coors, Corona, Miller, Caribe, Presidente

Please let your broker know your preferred brand.

If you require premium wines or spirits of your choice, please notify your broker and we will be happy to source it for you and have them onboard when you arrive.
Pick Up Locations
| | |
| --- | --- |
| Pref. Pick-up: | Crown Bay Marina, STT, USVI |
| Other Pick-up: | Red Hook/YHG, STT - West End, |
---
Details
| | |
| --- | --- |
| Refit: | - |
| Helipad: | No |
| Jacuzzi: | No |
| A/C: | Full |
Engine Details
-
Fuel Consumption:
1200 L*
Cruising Speed:
-
Max Speed:
-
Locations
| | |
| --- | --- |
| Winter Area: | Caribbean Virgin Islands (US/BVI), Caribbean Virgin Islands (US), Caribbean Virgin Islands (BVI) |
| Summer Area: | Caribbean Virgin Islands (US/BVI), Caribbean Virgin Islands (US), Caribbean Virgin Islands (BVI) |
---
Amenities
| | |
| --- | --- |
| Salon Tv/VCR: | No |
| Salon Stereo: | Yes |
| Sat TV: | - |
| # of Videos: | - |
| # DVDs/Movies: | No |
| # CD's: | Yes |
| Camcorder: | No |
| Books: | No |
| Board Games: | Yes |
| Sun Awning: | - |
| Deck Shower: | Yes |
| Bimini: | Yes |
| Water Maker: | - |
| | |
| --- | --- |
| Special Diets: | Yes |
| Kosher: | Inq |
| BBQ: | Yes |
| # Dine In: | 12 |
| Minimum Age: | Water safe |
| Generator: | - |
| Inverter: | - |
| Voltages: | - |
| Water Maker: | - |
| Water Cap: | 317 GL |
| Ice Maker: | - |
| Sailing Instructions: | No |
| Internet Access: | Onboard WIFI |
| | |
| --- | --- |
| Gay Charters: | Yes |
| Nude: | Inq |
| Hairdryers: | No |
| # Port Hatches: | - |
| Guests Smokes: | On deck only |
| Crew Smokes: | Inq |
| Pets Aboard: | No |
| Pet Type: | - |
| Guest Pets: | No |
| Children Ok: | Yes |
| Hammock: | No |
| Windscoops: | - |
---
Water Sports
| | |
| --- | --- |
| Dinghy size: | TBD |
| Dinghy hp: | TBD |
| Dinghy # pax: | - |
| Water Skis Adult: | No |
| Water Skis Kids: | No |
| Jet Skis: | No |
| Wave Runners: | No |
| Kneeboard: | No |
| Windsurfer: | No |
| Snorkel Gear: | Yes |
| Tube: | Yes |
| | |
| --- | --- |
| Scurfer: | No |
| Wake Board: | No |
| Kayaks 1 Pax: | No |
| Kayaks (2 Pax): | Yes |
| Floating Mats: | Yes |
| Swim Platform: | Aft |
| Boarding Ladder (Loc/Type): | Aft |
| Sailing Dinghy: | No |
| Beach Games: | Yes |
| Fishing Gear: | Yes |
| Gear Type: | Light Tackle |
| Rods: | - |
MEET THE CREW FOR 2022/23!

Captain Kelsey and chef Simon

Captain Kelsey: Born and raised in New Jersey, Kelsey spent her childhood sailing all over the east coast of the US. After graduating college, she moved to The Bahamas for a marketing stint. It wasn't long before she realized she wanted to turn her love of sailing into a career, and set off to South Africa to complete her Yachtmaster.

Since then, Kelsey has been cruising her way around the world. Her yachting experience ranges from fun flotilla charters in the Mediterranean to enduring transatlantic crossings. Whether you're looking for a relaxing, sunny vacation or an exciting ocean adventure, she is excited to welcome you aboard!

Chef Simon: Simon is a driven, hard working chef who grew up in Gothenburg, Sweden. Simon started his culinary career when he was only 15 years old. He started, what we would call, from the bottom and worked his way up. Simon has probably done it all when it comes to the restaurant business, all from a busboy to restaurant manager. After a couple of years Simon felt that it was time to try something new, so in 2020 he completed Quarterdeck host academy.

Simon is so excited to create some new amazing experiences, unforgettable memories and friends for life with his guests onboard. He has a high standard of cooking and cleaning and he will always put his guests first in every scenario. When Simon's not cheffing it up in the kitchen, he's spending time traveling, experiencing different food cultures and definitely grabbing a beer or two with his good friends around the world.

**Captain Simon and chef Kelsey are both fully vaccinated**
(15 December -30 April)
Caribbean Virgin Islands (US/BVI), Caribbean Virgin Islands (US), Caribbean Virgin Islands (BVI)
(1 May - 14 December)
Caribbean Virgin Islands (US/BVI), Caribbean Virgin Islands (US), Caribbean Virgin Islands (BVI)
| | | | | | | | | | | | | | | | | | | | | | | | | | | | | | | | |
| --- | --- | --- | --- | --- | --- | --- | --- | --- | --- | --- | --- | --- | --- | --- | --- | --- | --- | --- | --- | --- | --- | --- | --- | --- | --- | --- | --- | --- | --- | --- | --- |
| May 2022 | 1 | 2 | 3 | 4 | 5 | 6 | 7 | 8 | 9 | 10 | 11 | 12 | 13 | 14 | 15 | 16 | 17 | 18 | 19 | 20 | 21 | 22 | 23 | 24 | 25 | 26 | 27 | 28 | 29 | 30 | 31 |
| Jun 2022 | 1 | 2 | 3 | 4 | 5 | 6 | 7 | 8 | 9 | 10 | 11 | 12 | 13 | 14 | 15 | 16 | 17 | 18 | 19 | 20 | 21 | 22 | 23 | 24 | 25 | 26 | 27 | 28 | 29 | 30 | |
| Jul 2022 | 1 | 2 | 3 | 4 | 5 | 6 | 7 | 8 | 9 | 10 | 11 | 12 | 13 | 14 | 15 | 16 | 17 | 18 | 19 | 20 | 21 | 22 | 23 | 24 | 25 | 26 | 27 | 28 | 29 | 30 | 31 |
| Aug 2022 | 1 | 2 | 3 | 4 | 5 | 6 | 7 | 8 | 9 | 10 | 11 | 12 | 13 | 14 | 15 | 16 | 17 | 18 | 19 | 20 | 21 | 22 | 23 | 24 | 25 | 26 | 27 | 28 | 29 | 30 | 31 |
| Sep 2022 | 1 | 2 | 3 | 4 | 5 | 6 | 7 | 8 | 9 | 10 | 11 | 12 | 13 | 14 | 15 | 16 | 17 | 18 | 19 | 20 | 21 | 22 | 23 | 24 | 25 | 26 | 27 | 28 | 29 | 30 | |
| Oct 2022 | 1 | 2 | 3 | 4 | 5 | 6 | 7 | 8 | 9 | 10 | 11 | 12 | 13 | 14 | 15 | 16 | 17 | 18 | 19 | 20 | 21 | 22 | 23 | 24 | 25 | 26 | 27 | 28 | 29 | 30 | 31 |
| Nov 2022 | 1 | 2 | 3 | 4 | 5 | 6 | 7 | 8 | 9 | 10 | 11 | 12 | 13 | 14 | 15 | 16 | 17 | 18 | 19 | 20 | 21 | 22 | 23 | 24 | 25 | 26 | 27 | 28 | 29 | 30 | |
| Dec 2022 | 1 | 2 | 3 | 4 | 5 | 6 | 7 | 8 | 9 | 10 | 11 | 12 | 13 | 14 | 15 | 16 | 17 | 18 | 19 | 20 | 21 | 22 | 23 | 24 | 25 | 26 | 27 | 28 | 29 | 30 | 31 |
| Jan 2023 | 1 | 2 | 3 | 4 | 5 | 6 | 7 | 8 | 9 | 10 | 11 | 12 | 13 | 14 | 15 | 16 | 17 | 18 | 19 | 20 | 21 | 22 | 23 | 24 | 25 | 26 | 27 | 28 | 29 | 30 | 31 |
| Feb 2023 | 1 | 2 | 3 | 4 | 5 | 6 | 7 | 8 | 9 | 10 | 11 | 12 | 13 | 14 | 15 | 16 | 17 | 18 | 19 | 20 | 21 | 22 | 23 | 24 | 25 | 26 | 27 | 28 | | | |
| Mar 2023 | 1 | 2 | 3 | 4 | 5 | 6 | 7 | 8 | 9 | 10 | 11 | 12 | 13 | 14 | 15 | 16 | 17 | 18 | 19 | 20 | 21 | 22 | 23 | 24 | 25 | 26 | 27 | 28 | 29 | 30 | 31 |
| Apr 2023 | 1 | 2 | 3 | 4 | 5 | 6 | 7 | 8 | 9 | 10 | 11 | 12 | 13 | 14 | 15 | 16 | 17 | 18 | 19 | 20 | 21 | 22 | 23 | 24 | 25 | 26 | 27 | 28 | 29 | 30 | |
---