CHARGES
FROM
$48,000
All Inclusive
---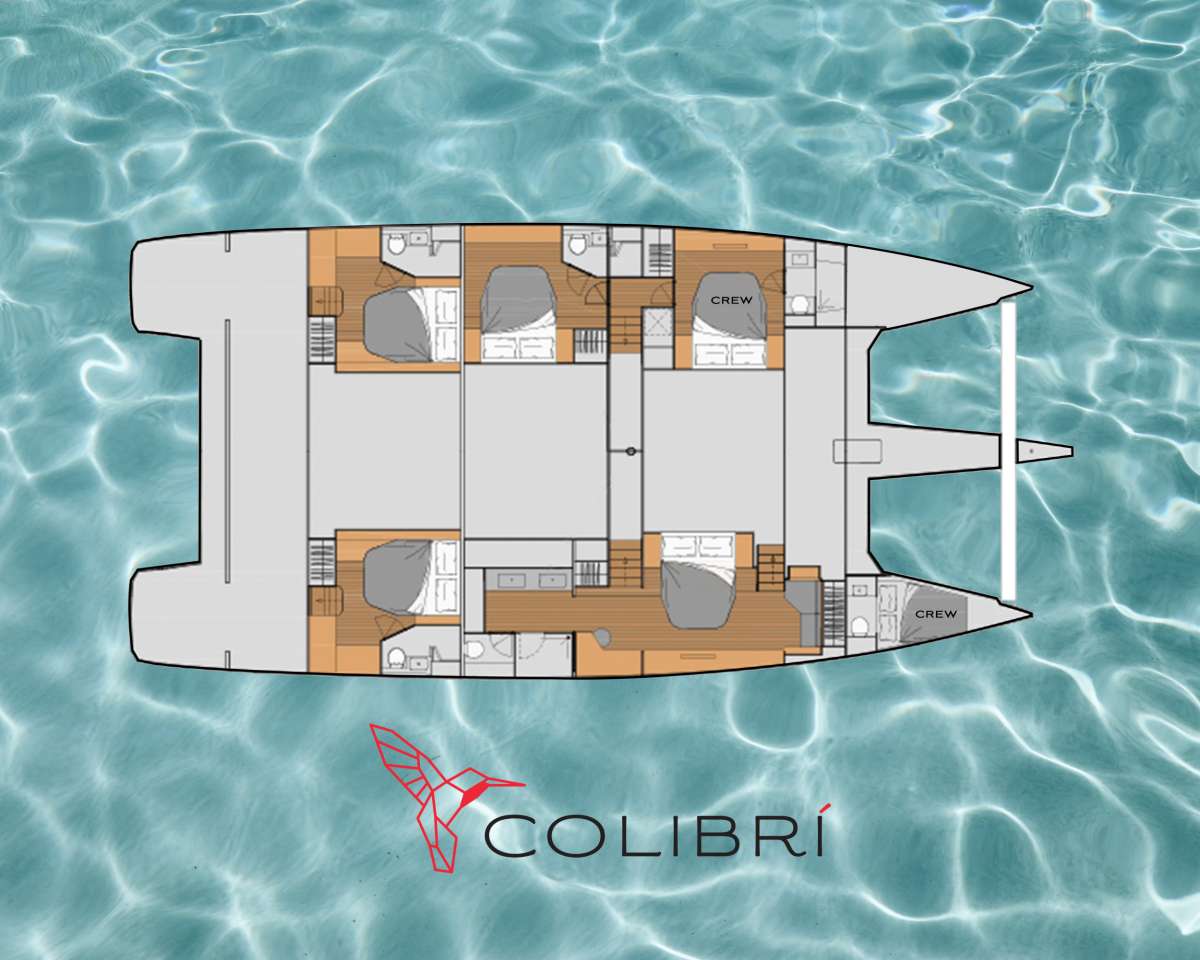 Boat Details
| | |
| --- | --- |
| Cabins: | 4 |
| King: | 1 |
| Queen: | 3 |
| Single Cabins: | - |
| Showers: | 4 |
| Wash Basins: | 4 |
| Heads: | 4 |
| Electric Heads: | 4 |
Sample Menu
Normal Menu

Day 1

Breakfast- smoked salmon platter with freshly baked croissants

Lunch- charcuterie platters

Appetizers - stuffed Mushrooms

Starter- blue cheese panna Cotta with port balsamic poach pears

Dinner- pan seared scallops and chorizo served over a spring veg and champagne risotto

Desert-chocolate lava cake with mango sorbet

Day. 2

Breakfast- chocolate chip pancakes

Lunch- caprese salad with home made bread

Appetizers - lobster samosas

Starter- shrimp and wild mushroom bouchée

Dinner- pan seared duck with a port and red current reduction

Desert- baileys creme brûlée with white chocolate biscotti

Day 3

Breakfast- pain chocolate & chia seed pudding

Lunch- Moule's Mariniere

Appetizers - shrimp toast

Starter- baked Brie with homemade cranberry and port compote

Dinner-pan seared sea bass over black squid ink pasta over a roasted red pepper sauce

Desert-raspberry and lemon Mille-feuille

Day 4

Breakfast- avocado baked eggs

Lunch- goats cheese and roasted pepper baskets

Appetizers - beetroot hummus platter

Starter- tuna tartara

Dinner- pan seared mahi-mahi in a white wine tomato and basil sauce

Desert- key lime pie

Day 5

Breakfast- yogurt parfait & raisin swirls

Lunch- crab and avocado salad

Appetizers - cheese scones with vintage cheddar and port cranberry compote

Starter- butternut squash soup

Dinner- rack of lamb over blue cheese polenta and balsamic pomegranate reduction

Desert- strawberry cheesecake ice cream bomb

Day 6

Breakfast- overnight soaked oats & Banana Bread

Lunch- Caesar salad with BBQ shrimp

Appetizers - crispy crab and ginger dumplings

Starter- foie gras on homemade brioche with fig compote

Dinner- Bouillabaisse with crunchy bread

Desert- light non baked cheese cake with a summer berry compote

Day 7

Breakfast- smoked salmon eggs Benedict

Lunch- sushi grade tuna nicole's salad

Appetizers - truffle popcorn

Starter-beetroot and vodka cured kingfish

Dinner- Fillet of Beef Wellington

Desert-rich chocolate truffle tower with raspberry gelato
Pick Up Locations
| | |
| --- | --- |
| Pref. Pick-up: | Nanny Cay |
| Other Pick-up: | Nanny Cay |
---
Details
| | |
| --- | --- |
| Refit: | - |
| Helipad: | No |
| Jacuzzi: | Yes |
| A/C: | Full |
Engine Details
Volvo 2 x 150 HP 2 x 12 KW synced to 24K generator
Fuel Consumption:
-
Cruising Speed:
-
Max Speed:
-
Locations
| | |
| --- | --- |
| Winter Area: | Caribbean Virgin Islands |
| Summer Area: | Caribbean Virgin Islands, W. Med - Spain/Balearics |
---
Amenities
| | |
| --- | --- |
| Salon Tv/VCR: | Yes |
| Salon Stereo: | Yes |
| Sat TV: | - |
| # of Videos: | - |
| # DVDs/Movies: | Movies - f |
| # CD's: | - |
| Camcorder: | - |
| Books: | Yes |
| Board Games: | Yes |
| Sun Awning: | Yes |
| Deck Shower: | Yes |
| Bimini: | - |
| Water Maker: | X 2 |
| | |
| --- | --- |
| Special Diets: | Yes |
| Kosher: | Inq |
| BBQ: | Yes |
| # Dine In: | Sa |
| Minimum Age: | - |
| Generator: | 2 x 12 KW |
| Inverter: | 5000w (220v) 3000w (110v) |
| Voltages: | 110 & 220 |
| Water Maker: | X 2 |
| Water Cap: | 317 Gallons |
| Ice Maker: | Yes |
| Sailing Instructions: | No |
| Internet Access: | - |
| | |
| --- | --- |
| Gay Charters: | Inq |
| Nude: | No |
| Hairdryers: | Yes |
| # Port Hatches: | - |
| Guests Smokes: | Aft transom only |
| Crew Smokes: | No |
| Pets Aboard: | No |
| Pet Type: | - |
| Guest Pets: | - |
| Children Ok: | Yes |
| Hammock: | Yes |
| Windscoops: | - |
---
Water Sports
| | |
| --- | --- |
| Dinghy size: | 14' Highfield |
| Dinghy hp: | 50 HP |
| Dinghy # pax: | 8 |
| Water Skis Adult: | - |
| Water Skis Kids: | - |
| Jet Skis: | No |
| Wave Runners: | No |
| Kneeboard: | Yes |
| Windsurfer: | No |
| Snorkel Gear: | Yes |
| Tube: | Yes |
| | |
| --- | --- |
| Scurfer: | No |
| Wake Board: | 1 |
| Kayaks 1 Pax: | No |
| Kayaks (2 Pax): | No |
| Floating Mats: | - |
| Swim Platform: | transom |
| Boarding Ladder (Loc/Type): | Starboard aft |
| Sailing Dinghy: | No |
| Beach Games: | - |
| Fishing Gear: | Yes |
| Gear Type: | Trolling rods where permitted |
| Rods: | 2 |
There will be a rotational Captain and Chef throughout the season.

Captain Antonio Garcias Oliva
Born on the Island of Palma de Majorca, it is no surprise Antonio chose a maritime career. His career history, armed with a Skipper Limited, Class A Master license includes being a Ship's Captain for ships under 1600 ton in the Balearics, Spain. After 6 years working with Transportes Maritimes Brisas as a sailor he became a Captain for 7 years. A knowledgeable welcome addition he joined the charter industry 15 years ago and brings his Spanish credentials to the Caribbean. A fluent speaker of Catalan, Spanish, English and basic German, his hobbies include computing in both Mac and Windows.

Chef Gianfranco Colmenares Viale
Four years training in the Cordon Bleu arts at the University of Peru are the foundation of his culinary expertise. Concurrent and subsequent positions widened his abilities including under a Michelin star trained chef. With experience in both Peru and Spain there is no doubt you will be treated to some of the known national dishes like ceviche and paella. Clearly, a go getter this talented young chef was an undefeated Peruvian champion in rowing from 2105 – 2019. Gianfranco represented Peru in the Pan Am Games and other international events including three first place wins in Philadelphia.

Steward/Deckhand Alex Esteban Diaz

~~~~~~~~~~~~~~~~~~~~
Captain Jaime Gabriel Ferra Valles


Chef Falk Hubert
A German professional chef Falk has enjoyed 3 years as Chef De Partie in New Zealand, some time as head chef on a Sunseeker 75' prior to becoming Head Chef in a Spanish fusion restaurant serving elaborate tapas. Clearly caught by the lure of the sea he joins Untethered as the alternating Chef. His culinary specialties include but are not limited to Mediterranean, Seafood, German for those with dietary restrictions, Gluten Free and Vegan.

Stewardess Silvia Calzadilla Paredes
Silvia's efficient can do - will do attitude has propelled her career path in the hospitality industry. For a couple of years as the duty manager in a busy New Zealand restaurant her keen organizational skills lent a fine finish to the dining experience. A Spanish native she speak English and German. For the past 3 years Silvia moved onboard to look after up to 10 guests and the crew on motor yachts mainly around the Balearics. Excited about her next transition to a sailing yacht team her attention to detail will elevate your experience.
(15 December -30 April)
Caribbean Virgin Islands
(1 May - 14 December)
Caribbean Virgin Islands, W. Med - Spain/Balearics
| | | | | | | | | | | | | | | | | | | | | | | | | | | | | | | | |
| --- | --- | --- | --- | --- | --- | --- | --- | --- | --- | --- | --- | --- | --- | --- | --- | --- | --- | --- | --- | --- | --- | --- | --- | --- | --- | --- | --- | --- | --- | --- | --- |
| Jan 2022 | 1 | 2 | 3 | 4 | 5 | 6 | 7 | 8 | 9 | 10 | 11 | 12 | 13 | 14 | 15 | 16 | 17 | 18 | 19 | 20 | 21 | 22 | 23 | 24 | 25 | 26 | 27 | 28 | 29 | 30 | 31 |
| Feb 2022 | 1 | 2 | 3 | 4 | 5 | 6 | 7 | 8 | 9 | 10 | 11 | 12 | 13 | 14 | 15 | 16 | 17 | 18 | 19 | 20 | 21 | 22 | 23 | 24 | 25 | 26 | 27 | 28 | | | |
| Mar 2022 | 1 | 2 | 3 | 4 | 5 | 6 | 7 | 8 | 9 | 10 | 11 | 12 | 13 | 14 | 15 | 16 | 17 | 18 | 19 | 20 | 21 | 22 | 23 | 24 | 25 | 26 | 27 | 28 | 29 | 30 | 31 |
| Apr 2022 | 1 | 2 | 3 | 4 | 5 | 6 | 7 | 8 | 9 | 10 | 11 | 12 | 13 | 14 | 15 | 16 | 17 | 18 | 19 | 20 | 21 | 22 | 23 | 24 | 25 | 26 | 27 | 28 | 29 | 30 | |
| May 2022 | 1 | 2 | 3 | 4 | 5 | 6 | 7 | 8 | 9 | 10 | 11 | 12 | 13 | 14 | 15 | 16 | 17 | 18 | 19 | 20 | 21 | 22 | 23 | 24 | 25 | 26 | 27 | 28 | 29 | 30 | 31 |
| Jun 2022 | 1 | 2 | 3 | 4 | 5 | 6 | 7 | 8 | 9 | 10 | 11 | 12 | 13 | 14 | 15 | 16 | 17 | 18 | 19 | 20 | 21 | 22 | 23 | 24 | 25 | 26 | 27 | 28 | 29 | 30 | |
| Jul 2022 | 1 | 2 | 3 | 4 | 5 | 6 | 7 | 8 | 9 | 10 | 11 | 12 | 13 | 14 | 15 | 16 | 17 | 18 | 19 | 20 | 21 | 22 | 23 | 24 | 25 | 26 | 27 | 28 | 29 | 30 | 31 |
| Aug 2022 | 1 | 2 | 3 | 4 | 5 | 6 | 7 | 8 | 9 | 10 | 11 | 12 | 13 | 14 | 15 | 16 | 17 | 18 | 19 | 20 | 21 | 22 | 23 | 24 | 25 | 26 | 27 | 28 | 29 | 30 | 31 |
| Sep 2022 | 1 | 2 | 3 | 4 | 5 | 6 | 7 | 8 | 9 | 10 | 11 | 12 | 13 | 14 | 15 | 16 | 17 | 18 | 19 | 20 | 21 | 22 | 23 | 24 | 25 | 26 | 27 | 28 | 29 | 30 | |
| Oct 2022 | 1 | 2 | 3 | 4 | 5 | 6 | 7 | 8 | 9 | 10 | 11 | 12 | 13 | 14 | 15 | 16 | 17 | 18 | 19 | 20 | 21 | 22 | 23 | 24 | 25 | 26 | 27 | 28 | 29 | 30 | 31 |
| Nov 2022 | 1 | 2 | 3 | 4 | 5 | 6 | 7 | 8 | 9 | 10 | 11 | 12 | 13 | 14 | 15 | 16 | 17 | 18 | 19 | 20 | 21 | 22 | 23 | 24 | 25 | 26 | 27 | 28 | 29 | 30 | |
| Dec 2022 | 1 | 2 | 3 | 4 | 5 | 6 | 7 | 8 | 9 | 10 | 11 | 12 | 13 | 14 | 15 | 16 | 17 | 18 | 19 | 20 | 21 | 22 | 23 | 24 | 25 | 26 | 27 | 28 | 29 | 30 | 31 |
---