CHARGES
FROM
$19,500
Inclusive
---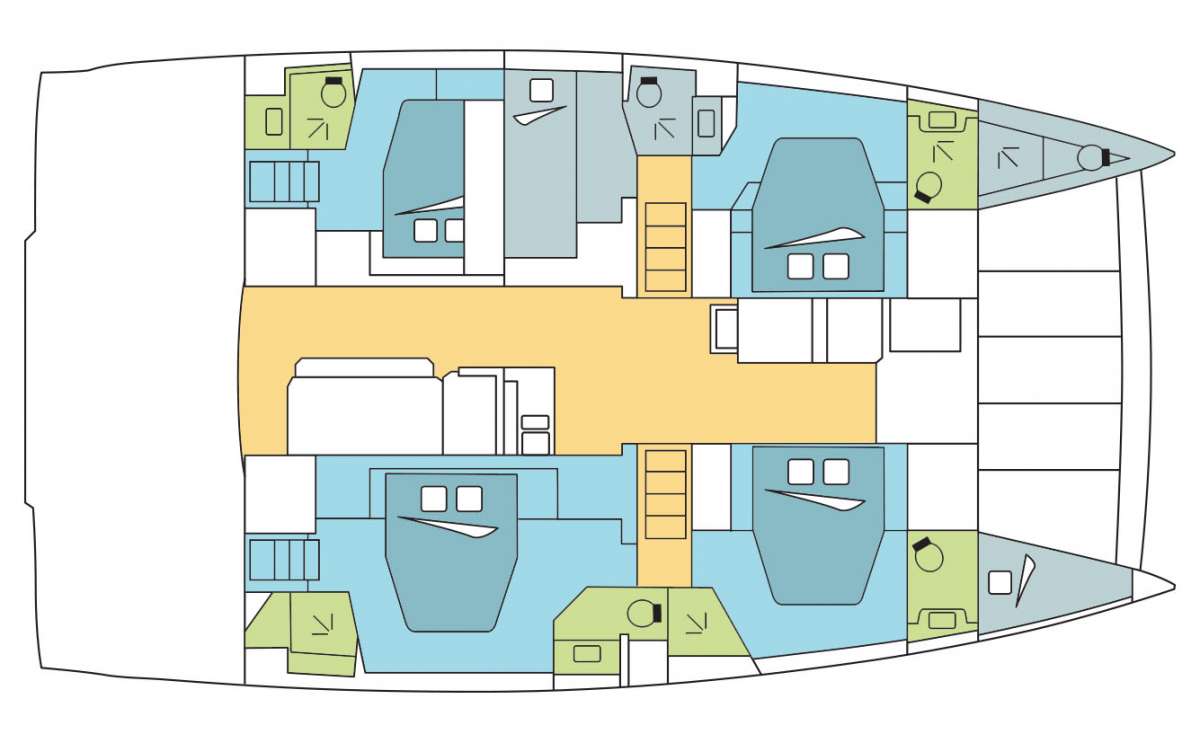 Boat Details
| | |
| --- | --- |
| Cabins: | 4 |
| King: | - |
| Queen: | 3 |
| Single Cabins: | - |
| Showers: | 4 |
| Wash Basins: | - |
| Heads: | 4 |
| Electric Heads: | 4 |
Sample Menu
BREAKFAST

Every morning: coffee, tea, juice, sorted pastry bread or baked goods and fruit platter will be served

Mediterranean Shakshuka poached eggs, topped with feta and fresh cilantro, served with sausage and pita

Avocado Toast with bacon, tomato, radish, sprouts and feta cheese, served with scrambled eggs and yogurt parfait

Vegetable Frittata stuffed with onion, broccoli, peppers and spinach, served with mini blueberry muffins, bacon and toast

Lemon and Ricotta Pancakes topped with berries, syrup and powdered sugar served with baked ham and cheese croissants

Eggs Benedict served on an english muffin

NYC Style Bagel Breakfast: your choice of..

1. Smoked salmon, cream cheese, tomato, cucumber, capers and lemon

2. Bacon egg and cheese

Challah French Toast served with fresh berries and bacon

LUNCH

Mahi Tacos topped with pickled cabbage, avocado, cotija cheese, cilantro, lime and chipotle mayo, served with a side of black bean and corn salad

Garlic Shrimp with Isreali couscous salad

Black Bean Sliders topped with guacamole and caramelized onions, served with coleslaw

Caprese Pasta Salad & Greek Chicken Wraps

Ahi Tuna Poke Bowl with spicy aioli

Deep Chevre Goat Cheese salad with fresh lemon vinaigrette

Crab Cakes over salad of the season and tartar sauce

Gourmet Grilled Cheese stuffed with gruyere, prosciutto, tomato served on brioche

APPETIZERS

Baked Camenmbert

Burrata and Tomato Caprese Salad with homemade pesto, olive oil and balsamic vinegar

Mexican Seasoned Shrimp Cocktail with cucumber, tomatoes, radish and avocado

Brie & Bacon or Brie & Apricot marmalade canapés

Cheese & Charcuterie board with fruits and nuts

Trio Mediterranean Dip with mini pita bread

Veggie Spring Rolls

Chicken Saute Skewers & Steamed Dumplings

Grilled Sausages with garlic bread

Spinach Puffs

DINNER

Baked Provincial Catch of the Day with coconut rice and mango salsa

Filet Mignon served on a bed of brussel sprouts and potatoes au gratin

Seared Scallops with Mushroom & Pea Risotto and a side of asparagus

Creamy Lobster Linguine topped with fresh parsley

Tuscan Salmon with pearl couscous and green bean almondine

Mongolian Beef & Broccoli Lo Mein

Coconut Curry Shrimp served over pilau rice

Nduja Sausage Gnocchi with roasted peppers, garlic and spinach

Seafood Paella

Caribbean Chicken Curry with coconut, pineapple and chickpeas served with jasmine rice

DESSERT

Cocoa Dark Brownie with chocolate chips and vanilla ice cream

Crème Brûlée

Strawberry Pavlova

Key Lime Custard

Mango & Pineapple Crumble with vanilla ice cream and coconut shavings

Mochi
Pick Up Locations
| | |
| --- | --- |
| Pref. Pick-up: | Tortola, BVI |
| Other Pick-up: | St. Thomas, USVI (Seaport depe |
---
Details
| | |
| --- | --- |
| Refit: | - |
| Helipad: | No |
| Jacuzzi: | No |
| A/C: | Full |
Engine Details
Engine - 2 x 57hp
Fuel Consumption:
-
Cruising Speed:
-
Max Speed:
-
Locations
| | |
| --- | --- |
| Winter Area: | Caribbean Virgin Islands (US/BVI), Caribbean Virgin Islands (BVI) |
| Summer Area: | Croatia |
---
Amenities
| | |
| --- | --- |
| Salon Tv/VCR: | Yes |
| Salon Stereo: | Yes |
| Sat TV: | - |
| # of Videos: | - |
| # DVDs/Movies: | Netflix |
| # CD's: | Yes |
| Camcorder: | - |
| Books: | Yes |
| Board Games: | Yes |
| Sun Awning: | Yes |
| Deck Shower: | Yes |
| Bimini: | Yes |
| Water Maker: | Yes |
| | |
| --- | --- |
| Special Diets: | Yes |
| Kosher: | Inq |
| BBQ: | Yes |
| # Dine In: | - |
| Minimum Age: | - |
| Generator: | - |
| Inverter: | - |
| Voltages: | 110V |
| Water Maker: | Yes |
| Water Cap: | 2 - 1000 Liter Tanks |
| Ice Maker: | Yes |
| Sailing Instructions: | - |
| Internet Access: | Onboard WIFI |
| | |
| --- | --- |
| Gay Charters: | Yes |
| Nude: | Inq |
| Hairdryers: | Yes |
| # Port Hatches: | - |
| Guests Smokes: | On sugar scoops only |
| Crew Smokes: | No |
| Pets Aboard: | No |
| Pet Type: | - |
| Guest Pets: | No |
| Children Ok: | Yes |
| Hammock: | Yes |
| Windscoops: | - |
---
Water Sports
| | |
| --- | --- |
| Dinghy size: | 13 Ft. Highfield Center Console |
| Dinghy hp: | 40 |
| Dinghy # pax: | 10 |
| Water Skis Adult: | - |
| Water Skis Kids: | - |
| Jet Skis: | - |
| Wave Runners: | - |
| Kneeboard: | - |
| Windsurfer: | - |
| Snorkel Gear: | Yes |
| Tube: | Yes |
| | |
| --- | --- |
| Scurfer: | - |
| Wake Board: | Yes |
| Kayaks 1 Pax: | - |
| Kayaks (2 Pax): | - |
| Floating Mats: | Yes |
| Swim Platform: | Yes |
| Boarding Ladder (Loc/Type): | Yes/Stern |
| Sailing Dinghy: | - |
| Beach Games: | Yes |
| Fishing Gear: | Yes |
| Gear Type: | Trolling and Casting |
| Rods: | 2 |
London born, Raph grew up dinghy sailing from a tender age in UK waters but it wasn't until 2012 that his career in sailing was truly launched.
He partook in the Oyster round the world rally that took him from Mallorca, Spain all the way to Thailand, via the gems of the Pacific Ocean. It was this trip that caused him to fall in love with all things Ocean and he promptly obtained his RYA Yachtmaster.

During this time, he also acquired his bachelor's degree at the University of Leeds but the pull of getting paid to do something he loved was too strong and he returned to a life on the Ocean.

To date he has completed 4 Atlantic Crossings, 1 Pacific crossing and over 50 charters, so as well as being a fun, friendly and easy-going addition to your group, know you'll be in extremely safe and experienced hands too.

Anna, originally from Michigan, always had a passion for travel and adventure. During the pandemic, she relocated to the USVI after living in New York City for 5 years. Whilst in New York, she was a professional Modern dancer and Assistant Rehearsal Director for world renown company, Jennifer Muller/The Works. Being a dancer, fitness was always important, driving her to complete her 600 hour Pilates certification from New York Pilates. Once Covid struck, the dance world was put on hold and Anna dove head first into a full time career change.

Anna's love for sailing started in 2018, when she experienced her first trip in Greece. Immediately after, she realized her desire for the industry and began working for a sailing company as a freelance charter chef in Greece, Croatia and the British Virgin Islands.

Raph and Anna met in the Caribbean islands in 2017 while Anna's family was on vacation, where she met her forever favorite captain, Raph. Since then, Anna and Raph have been inseparable, spending most of their time on sailing yachts, New York and London. With their shared love for adventure and hospitality, they make a great team to ensure the best experience aboard Okeana.


(15 December -30 April)
Caribbean Virgin Islands (US/BVI), Caribbean Virgin Islands (BVI)
(1 May - 14 December)
Croatia
| | | | | | | | | | | | | | | | | | | | | | | | | | | | | | | | |
| --- | --- | --- | --- | --- | --- | --- | --- | --- | --- | --- | --- | --- | --- | --- | --- | --- | --- | --- | --- | --- | --- | --- | --- | --- | --- | --- | --- | --- | --- | --- | --- |
| Aug 2022 | 1 | 2 | 3 | 4 | 5 | 6 | 7 | 8 | 9 | 10 | 11 | 12 | 13 | 14 | 15 | 16 | 17 | 18 | 19 | 20 | 21 | 22 | 23 | 24 | 25 | 26 | 27 | 28 | 29 | 30 | 31 |
| Sep 2022 | 1 | 2 | 3 | 4 | 5 | 6 | 7 | 8 | 9 | 10 | 11 | 12 | 13 | 14 | 15 | 16 | 17 | 18 | 19 | 20 | 21 | 22 | 23 | 24 | 25 | 26 | 27 | 28 | 29 | 30 | |
| Oct 2022 | 1 | 2 | 3 | 4 | 5 | 6 | 7 | 8 | 9 | 10 | 11 | 12 | 13 | 14 | 15 | 16 | 17 | 18 | 19 | 20 | 21 | 22 | 23 | 24 | 25 | 26 | 27 | 28 | 29 | 30 | 31 |
| Nov 2022 | 1 | 2 | 3 | 4 | 5 | 6 | 7 | 8 | 9 | 10 | 11 | 12 | 13 | 14 | 15 | 16 | 17 | 18 | 19 | 20 | 21 | 22 | 23 | 24 | 25 | 26 | 27 | 28 | 29 | 30 | |
| Dec 2022 | 1 | 2 | 3 | 4 | 5 | 6 | 7 | 8 | 9 | 10 | 11 | 12 | 13 | 14 | 15 | 16 | 17 | 18 | 19 | 20 | 21 | 22 | 23 | 24 | 25 | 26 | 27 | 28 | 29 | 30 | 31 |
| Jan 2023 | 1 | 2 | 3 | 4 | 5 | 6 | 7 | 8 | 9 | 10 | 11 | 12 | 13 | 14 | 15 | 16 | 17 | 18 | 19 | 20 | 21 | 22 | 23 | 24 | 25 | 26 | 27 | 28 | 29 | 30 | 31 |
| Feb 2023 | 1 | 2 | 3 | 4 | 5 | 6 | 7 | 8 | 9 | 10 | 11 | 12 | 13 | 14 | 15 | 16 | 17 | 18 | 19 | 20 | 21 | 22 | 23 | 24 | 25 | 26 | 27 | 28 | | | |
| Mar 2023 | 1 | 2 | 3 | 4 | 5 | 6 | 7 | 8 | 9 | 10 | 11 | 12 | 13 | 14 | 15 | 16 | 17 | 18 | 19 | 20 | 21 | 22 | 23 | 24 | 25 | 26 | 27 | 28 | 29 | 30 | 31 |
| Apr 2023 | 1 | 2 | 3 | 4 | 5 | 6 | 7 | 8 | 9 | 10 | 11 | 12 | 13 | 14 | 15 | 16 | 17 | 18 | 19 | 20 | 21 | 22 | 23 | 24 | 25 | 26 | 27 | 28 | 29 | 30 | |
| May 2023 | 1 | 2 | 3 | 4 | 5 | 6 | 7 | 8 | 9 | 10 | 11 | 12 | 13 | 14 | 15 | 16 | 17 | 18 | 19 | 20 | 21 | 22 | 23 | 24 | 25 | 26 | 27 | 28 | 29 | 30 | 31 |
| Jun 2023 | 1 | 2 | 3 | 4 | 5 | 6 | 7 | 8 | 9 | 10 | 11 | 12 | 13 | 14 | 15 | 16 | 17 | 18 | 19 | 20 | 21 | 22 | 23 | 24 | 25 | 26 | 27 | 28 | 29 | 30 | |
| Jul 2023 | 1 | 2 | 3 | 4 | 5 | 6 | 7 | 8 | 9 | 10 | 11 | 12 | 13 | 14 | 15 | 16 | 17 | 18 | 19 | 20 | 21 | 22 | 23 | 24 | 25 | 26 | 27 | 28 | 29 | 30 | 31 |
---