CHARGES
FROM
$26,000
Inclusive
---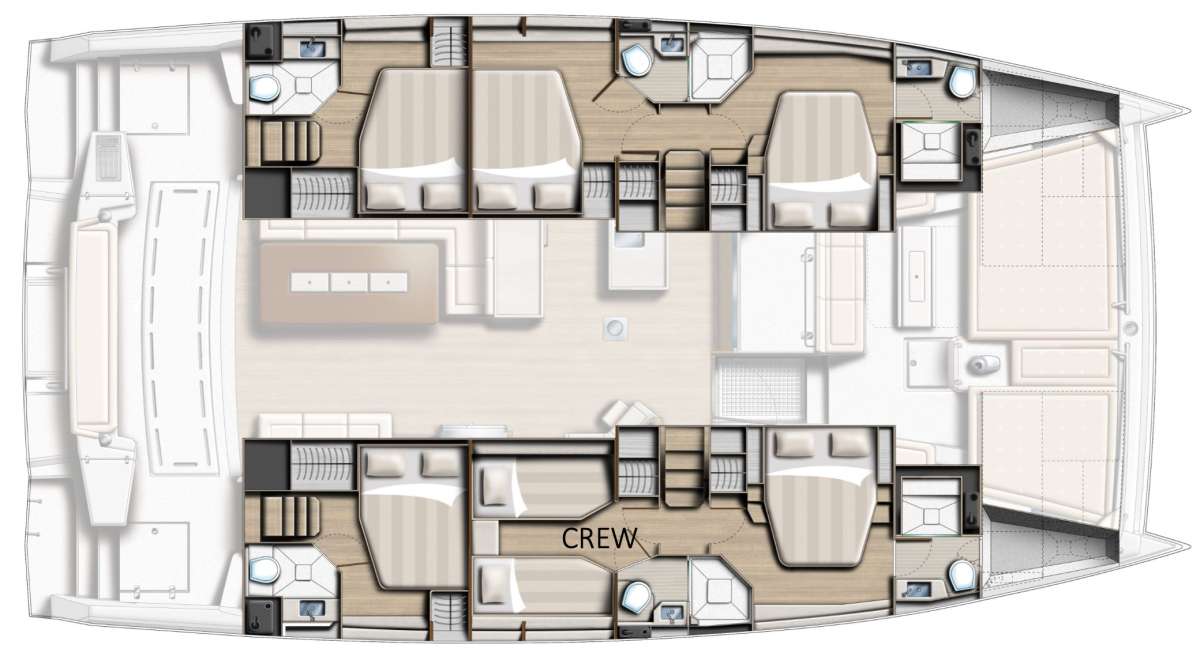 Boat Details
| | |
| --- | --- |
| Cabins: | 5 |
| King: | - |
| Queen: | 5 |
| Single Cabins: | - |
| Showers: | 5 |
| Wash Basins: | 5 |
| Heads: | 5 |
| Electric Heads: | 5 |
Sample Menu
BREAKFAST
Miniature Spinach & Feta Quiche
Served with loaded veggie and bacon home fries (*GF)


Smoothie Bowls
Banana and mixed berry base topped with homemade
granola, fresh fruit, and almond butter drizzle (V,*GF,DF)


New York Salmon Bagel
Everything bagel with cream cheese, smoked salmon,
capers and red onion served with breakfast sausage


Vegetable Frittata with Grilled Halloumi
Mushrooms, red onion, spinach, and tomatoes served
with honey and pepper grilled halloumi on the side (V,GF)


Steak and Eggs
Grilled flank steak with scrambled eggs, roasted cherry
tomatoes and potatoes (GF, DF)


Avocado Toast
Smashed avocado on sourdough with deviled eggs, red
pepper flakes, feta and lime (V, *GF, *DF)


French Toast Casserole
Baked French Toast topped with honey drizzled
mascarpone and fresh seasonal fruit, served with crispy bacon

LUNCH
Pulled Pork or Steak Tacos
Slow cooked pork shoulder or grilled NY strip with grilled
pineapple, pickled red cabbage, and homemade crispy onion (*GF)

Ahi Tuna Poke Bowls
Served over rice with a mango salsa, cabbage, and
avocado with a homemade chipotle mayo or teriyaki sauce (GF, *DF)

Grilled Chicken & Quinoa Salad
Honey lemon chicken with rocket, organic cherry
tomatoes, feta, roasted potatoes, and quinoa with a creamy garlic and lemon dressing (GF)

Grilled Chicken Skewers with an Antipasto Spread
Garlic rubbed chicken skewed with portobello mushrooms and bell peppers served with a modern
take on the classic Italian Antipasto spread

Mushroom & Feta Flatbreads with Grilled Steak
Sauteed balsamic glazed portobello mushroom and feta
flatbread served with quinoa salad and grilled steak strips (*GF)


Parmesan Crusted Chicken
Served with basmati rice, roasted vegetables, and garlic aioli


Customised Beach Picnic
Various salads, grilled chicken wraps, local fruits, charcuterie and finger sandwiches

DINNER
Shrimp Coconut Red Curry (GF, DF)
• Starter; summer rolls (GF, DF)
• Desert; Chocolate chip cookies from scratch with vanilla ice cream (V)

Ravioli Alla Vodka
• Starter; Caprese salad (V, GF)
• Desert; Espresso creme brulee (V, GF)


Poulet Provencal (GF)
• Starter; Goat cheese and caramelized onion crostini (V)
• Desert; Affogato, an espresso shot over gelato with shaved chocolate topping (V)

Filet Mignon
• Starter; Caesar salad (V)
• Desert; Fudge brownie with vanilla ice cream (V)


Beef Pad Thai (*GF, DF)
• Starter; Shrimp cocktail (GF, DF)
• Desert; Key lime pie custard (V)


Blackened Mahi Mahi (GF)
• Starter; Fresh guacamole and corn chips (GF, V,DF)
• Desert; Assorted fruit and clotted cream (V, GF)


Brown Buttered Scallops over Vegetable Risotto (GF)
• Starter; Antipasto spread
• Desert; Chocolate chip banana cake (V)
Pick Up Locations
| | |
| --- | --- |
| Pref. Pick-up: | St Thomas / Grenada |
| Other Pick-up: | Tortola |
---
Details
| | |
| --- | --- |
| Refit: | - |
| Helipad: | No |
| Jacuzzi: | No |
| A/C: | Full |
Engine Details
Generator - 21.5 kw / 60 Hz Engine: 2 x 80.0 HP
Fuel Consumption:
-
Cruising Speed:
8 Knots
Max Speed:
12 KnotsUS Gall/Hr
Locations
| | |
| --- | --- |
| Winter Area: | Caribbean Virgin Islands (US/BVI), Caribbean Leewards, Caribbean Windwards |
| Summer Area: | Caribbean Virgin Islands (US/BVI), Caribbean Leewards, Caribbean Windwards |
---
Amenities
| | |
| --- | --- |
| Salon Tv/VCR: | No |
| Salon Stereo: | Yes |
| Sat TV: | - |
| # of Videos: | - |
| # DVDs/Movies: | - |
| # CD's: | - |
| Camcorder: | No |
| Books: | - |
| Board Games: | No |
| Sun Awning: | Yes |
| Deck Shower: | Yes |
| Bimini: | Yes |
| Water Maker: | Yes- 2 x W |
| | |
| --- | --- |
| Special Diets: | Yes |
| Kosher: | Yes |
| BBQ: | Yes |
| # Dine In: | - |
| Minimum Age: | - |
| Generator: | Yes |
| Inverter: | Yes |
| Voltages: | 110V |
| Water Maker: | Yes- 2 x W |
| Water Cap: | 1200L - 315 GAL |
| Ice Maker: | Yes |
| Sailing Instructions: | - |
| Internet Access: | - |
| | |
| --- | --- |
| Gay Charters: | Yes |
| Nude: | Inq |
| Hairdryers: | No |
| # Port Hatches: | - |
| Guests Smokes: | On sugar scoops only |
| Crew Smokes: | No |
| Pets Aboard: | No |
| Pet Type: | - |
| Guest Pets: | No |
| Children Ok: | Yes |
| Hammock: | No |
| Windscoops: | No |
---
Water Sports
| | |
| --- | --- |
| Dinghy size: | 14 ft. Highfield Center console with Turbo Swing for watersports and ladder assembly |
| Dinghy hp: | 60 |
| Dinghy # pax: | - |
| Water Skis Adult: | No |
| Water Skis Kids: | No |
| Jet Skis: | No |
| Wave Runners: | No |
| Kneeboard: | No |
| Windsurfer: | No |
| Snorkel Gear: | 12 |
| Tube: | No |
| | |
| --- | --- |
| Scurfer: | No |
| Wake Board: | No |
| Kayaks 1 Pax: | - |
| Kayaks (2 Pax): | 1 |
| Floating Mats: | No |
| Swim Platform: | Yes |
| Boarding Ladder (Loc/Type): | Yes/Stern |
| Sailing Dinghy: | - |
| Beach Games: | No |
| Fishing Gear: | No |
| Gear Type: | - |
| Rods: | - |
Captain Kyle Glowacky

Your skipper, Captain Kyle, has lived near the sea his entire life. Growing up a New Englander, Kyle began working in the waters off the coast of New Hampshire in lobster boats, eventually finding his way into sailing tall ships. After attending Emerson College and graduating with a B.F.A., he soon realized it's hard to make money as an artist. He then returned to the water and has been sailing professionally ever since. Captain Kyle knows these waters like the back of his hand having spent seven years chartering the U.S. and the British Virgin Islands. Now back after a two-year hiatus working as a licensed officer aboard National Geographic expedition ships from Alaska to Baja California Sur, he longed to return to his roots sailing on a more intimate and personal scale. He strives to deliver a safe trip while ensuring his guests have the most fun and memorable time of their lives.

Chef Jehanne Bavay

With three seasons in the Virgin Islands, working as a chef/first mate on multi-sailing yachts and ten years of experience in the hospitality industry, I have deep passion for providing world-class customer service and dining experience for my guests. I am driving to provide the highest degree of hospitality by ensuring guests experiences meet and exceed expectations. The yachting industry has provided the perfect outlet for my energetic personality. I gain deep satisfaction from the continual transformation of my skill set and abilities as well as my life at sea, which I deeply love.
(15 December -30 April)
Caribbean Virgin Islands (US/BVI), Caribbean Leewards, Caribbean Windwards
(1 May - 14 December)
Caribbean Virgin Islands (US/BVI), Caribbean Leewards, Caribbean Windwards
| | | | | | | | | | | | | | | | | | | | | | | | | | | | | | | | |
| --- | --- | --- | --- | --- | --- | --- | --- | --- | --- | --- | --- | --- | --- | --- | --- | --- | --- | --- | --- | --- | --- | --- | --- | --- | --- | --- | --- | --- | --- | --- | --- |
| Nov 2022 | 1 | 2 | 3 | 4 | 5 | 6 | 7 | 8 | 9 | 10 | 11 | 12 | 13 | 14 | 15 | 16 | 17 | 18 | 19 | 20 | 21 | 22 | 23 | 24 | 25 | 26 | 27 | 28 | 29 | 30 | |
| Dec 2022 | 1 | 2 | 3 | 4 | 5 | 6 | 7 | 8 | 9 | 10 | 11 | 12 | 13 | 14 | 15 | 16 | 17 | 18 | 19 | 20 | 21 | 22 | 23 | 24 | 25 | 26 | 27 | 28 | 29 | 30 | 31 |
| Jan 2023 | 1 | 2 | 3 | 4 | 5 | 6 | 7 | 8 | 9 | 10 | 11 | 12 | 13 | 14 | 15 | 16 | 17 | 18 | 19 | 20 | 21 | 22 | 23 | 24 | 25 | 26 | 27 | 28 | 29 | 30 | 31 |
| Feb 2023 | 1 | 2 | 3 | 4 | 5 | 6 | 7 | 8 | 9 | 10 | 11 | 12 | 13 | 14 | 15 | 16 | 17 | 18 | 19 | 20 | 21 | 22 | 23 | 24 | 25 | 26 | 27 | 28 | | | |
| Mar 2023 | 1 | 2 | 3 | 4 | 5 | 6 | 7 | 8 | 9 | 10 | 11 | 12 | 13 | 14 | 15 | 16 | 17 | 18 | 19 | 20 | 21 | 22 | 23 | 24 | 25 | 26 | 27 | 28 | 29 | 30 | 31 |
| Apr 2023 | 1 | 2 | 3 | 4 | 5 | 6 | 7 | 8 | 9 | 10 | 11 | 12 | 13 | 14 | 15 | 16 | 17 | 18 | 19 | 20 | 21 | 22 | 23 | 24 | 25 | 26 | 27 | 28 | 29 | 30 | |
| May 2023 | 1 | 2 | 3 | 4 | 5 | 6 | 7 | 8 | 9 | 10 | 11 | 12 | 13 | 14 | 15 | 16 | 17 | 18 | 19 | 20 | 21 | 22 | 23 | 24 | 25 | 26 | 27 | 28 | 29 | 30 | 31 |
| Jun 2023 | 1 | 2 | 3 | 4 | 5 | 6 | 7 | 8 | 9 | 10 | 11 | 12 | 13 | 14 | 15 | 16 | 17 | 18 | 19 | 20 | 21 | 22 | 23 | 24 | 25 | 26 | 27 | 28 | 29 | 30 | |
| Jul 2023 | 1 | 2 | 3 | 4 | 5 | 6 | 7 | 8 | 9 | 10 | 11 | 12 | 13 | 14 | 15 | 16 | 17 | 18 | 19 | 20 | 21 | 22 | 23 | 24 | 25 | 26 | 27 | 28 | 29 | 30 | 31 |
| Aug 2023 | 1 | 2 | 3 | 4 | 5 | 6 | 7 | 8 | 9 | 10 | 11 | 12 | 13 | 14 | 15 | 16 | 17 | 18 | 19 | 20 | 21 | 22 | 23 | 24 | 25 | 26 | 27 | 28 | 29 | 30 | 31 |
| Sep 2023 | 1 | 2 | 3 | 4 | 5 | 6 | 7 | 8 | 9 | 10 | 11 | 12 | 13 | 14 | 15 | 16 | 17 | 18 | 19 | 20 | 21 | 22 | 23 | 24 | 25 | 26 | 27 | 28 | 29 | 30 | |
| Oct 2023 | 1 | 2 | 3 | 4 | 5 | 6 | 7 | 8 | 9 | 10 | 11 | 12 | 13 | 14 | 15 | 16 | 17 | 18 | 19 | 20 | 21 | 22 | 23 | 24 | 25 | 26 | 27 | 28 | 29 | 30 | 31 |
---